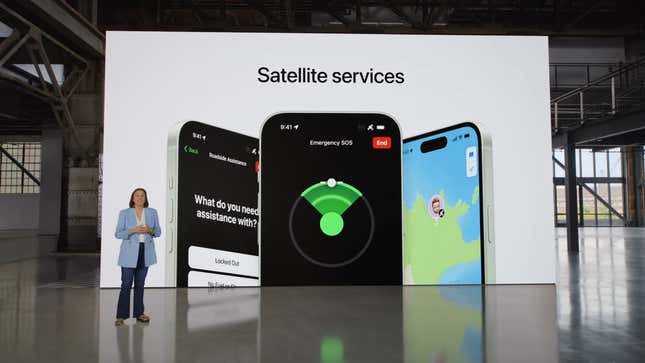 Last year, Apple unveiled Emergency SOS via satellite, an iPhone 14-exclusive feature that used satellite communications to connect you to emergency services. With the launch of the iPhone 15 and 15 Pro, Apple is expanding this Emergency SOS feature to include Roadside Assistance via satellite. Here's how it works.
The iPhone's Roadside Assistance via satellite
Like Emergency SOS via satellite, Roadside Assistance via satellite is available to you when your iPhone 14 or iPhone 15 does not have a wifi or cellular connection to work from. Your iPhone will instead communicate with the closest satellite in the sky to get you connected to help.
Let's say you aren't in a life-or-death emergency, but are instead dealing with "car trouble" (which can potentially turn into a life-or-death emergency). When you don't have service, Roadside Assistance lets you communicate with AAA over satellite. Because satellite communication is limited compared to standard service, iOS will walk you through options you can choose to tell AAA what's going on. For example, you can choose from "Locked Out," "No Fuel or Charge" or "Flat Tire," among other options: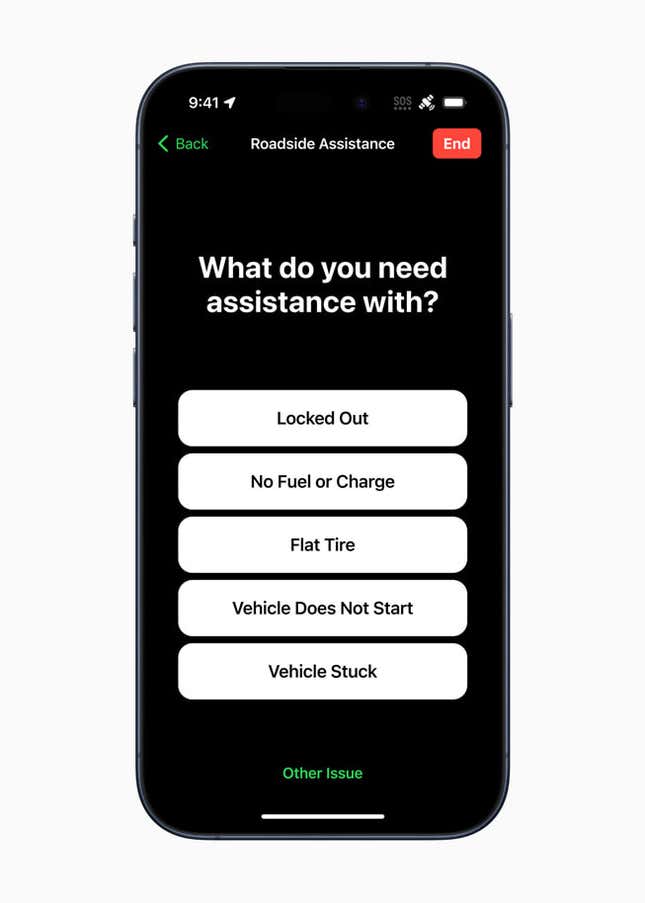 Roadside Assistance via satellite will transmit your exact location to AAA, so they'll have all the information they need to send you help. If you don't have a clear signal to a satellite, your iPhone will even guide you where to move to make sure your communications go through.
Does Roadside Assistance via satellite cost anything?
Apple says this service is free for two years from the activation of an iPhone 15, 15 Plus, 15 Pro, 15 Pro Max, 14, 14 Plus, 14 Pro, or 14 Pro Max. That said, the company notes that AAA may charge for any roadside assistance if you aren't a AAA member, and that this will happen on a pay-per-use basis. The company hasn't released specifics on what that pricing model would be.
You'll need to be running iOS 17 in order to access this particular feature, although Emergency SOS via satellite still works with iOS 16.