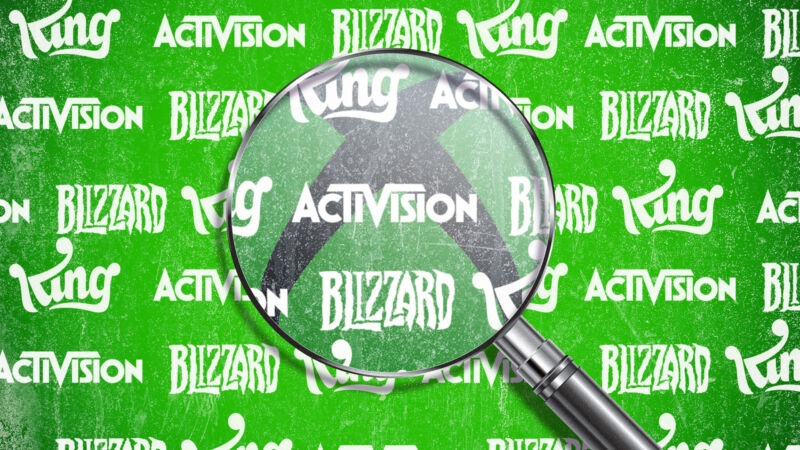 In its long-awaited final report, the United Kingdom's Competition and Markets Authority said that Microsoft's proposed $69 billion acquisition of Activision would "result in a substantial lessening of competition" (SLC) in the supply of cloud-gaming services in the UK. As such, the regulator said that "the only effective remedy to this SLC and its adverse consequences is to prohibit the Merger."
The final report cites Microsoft's "strong position" in the cloud-gaming sector, where the company has an estimated 60 to 70 percent market share that makes it "already much stronger than its rivals." After purchasing Activision, the CMA says Microsoft "would find it commercially beneficial to make Activision's titles exclusive to its own cloud gaming service."
Microsoft has in recent months signed deals with Nvidia and smaller cloud-gaming providers in an attempt to "mak[e] even more clear to regulators that our acquisition of Activision Blizzard will make Call of Duty available on far more devices than before," as Microsoft Vice Chair and President Brad Smith said in a statement last month. But the CMA said these kinds of cloud-gaming deals—which Microsoft submitted to the CMA as a proposed remedy for any anticompetitive effects of the merger—were "limited to cloud gaming providers with specific business models" and thus not sufficient to address the regulator's concerns.
Specifically, the CMA said Microsoft's proposed remedy doesn't sufficiently cover "multigame subscription services," or providers working with "games on PC operating systems other than Windows." Microsoft's proposed standardized cloud-gaming licensing terms would also prevent those deals from being "determined by the dynamism and creativity of competition in the market" the CMA said.
"Accepting Microsoft's remedy would inevitably require some degree of regulatory oversight by the CMA," the regulator said in a press release. "By contrast, preventing the merger would effectively allow market forces to continue to operate and shape the development of cloud gaming without this regulatory intervention."
Martin Coleman, the chair of the CMA's independent panel of experts in this investigation, said in a statement that "Microsoft already enjoys a powerful position and head start over other competitors in cloud gaming and this deal would strengthen that advantage giving it the ability to undermine new and innovative competitors."
Cloud gaming aside, the CMA seemed convinced that Microsoft's acquisition of the Call of Duty (CoD) franchise would not "substantially reduce competition" in the wider console gaming market. The regulator said that Microsoft "would not find it financially beneficial to make CoD exclusive to Xbox after the Merger and that providing a worse version on PlayStation "would not materially harm PlayStation's ability to compete."
Microsoft has already signed a 10-year deal to provide Call of Duty games for Nintendo consoles. The company has also proposed "eternal support" for the franchise on Sony consoles, though Sony has cited Bethesda's Xbox exclusives as a reason it can't trust those promises.
Not over yet
"We remain fully committed to this acquisition and will appeal," Smith said in a statement provided to Ars Technica. "The CMA's decision rejects a pragmatic path to address competition concerns and discourages technology innovation and investment in the United Kingdom."
"The CMA's report contradicts the ambitions of the UK to become an attractive country to build technology businesses," Activision Blizzard's Joe Christinat said in a statement provided to Ars Technica. "We will work aggressively with Microsoft to reverse this on appeal. The report's conclusions are a disservice to UK citizens, who face increasingly dire economic prospects. We will reassess our growth plans for the UK. Global innovators large and small will take note that—despite all its rhetoric—the UK is clearly closed for business."
While the UK decision wouldn't technically affect the proposed merger's operations in other countries, it would provide severe restrictions on how the combined company could operate in a major market worth just over 7 billion pounds (~$8.7 billion).
Regulators in countries including Brazil, Japan, and South Africa have all approved the deal. The European Union is widely expected to approve the deal in the coming weeks. An FTC lawsuit aiming to block the deal is set to have its first evidentiary hearing in August.
After the CMA launched its "Phase 2" investigation of the proposed merger last September, Microsoft was reportedly pessimistic about its chances of approval. Those chances began to look worse after a February preliminary report saying that the deal "could result in higher prices, fewer choices, or less innovation for UK gamers" by "weakening the important rivalry between Xbox and PlayStation gaming consoles."
By March, though, the CMA had reversed that preliminary finding regarding the console gaming market. That led some industry watchers to publicly expect that approval was likely before the release of today's final report.
This is a breaking story and will be updated with more details.